Hey guys,
This time on my Writerity member list for you is Elena.
Elena works as the Administrator in our company. She recently joined our team and I am really glad she did.
She was born in Skopje, Macedonia and is currently 25 years old. Elena has a very funny personality and always makes me laugh, so working with her is wonderful.
Despite her easy-going nature, she never neglects her tasks.
She loves going mountain biking in her free time. Usually, she goes to Mt. Vodno because it's closest to the city, however, after getting a new bike she wishes to go to Mavrovo and the Osogovo mountains tour.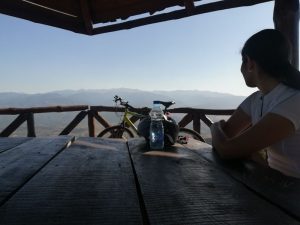 When she is not mountain biking or painting, she loves watching movies and reading books.
She is keen on watching Sci-Fi and Marvel movies, however her favorite one is trilogy
"The Hunger Games".
Elena's goal in life is to become a successful lawyer which is why she is studying at the "Faculty of Law Iustinianus Primus". Excluding her native Macedonian, she also speaks three other languages: English, Italian and French.
Thank you for reading.