Hello everyone,
Today I would like to introduce to you our Company!
Writerity is a Japanese IT company that recently opened an office here in Skopje, Macedonia (on September 2017).
Writerity mainly works for Japanese clients, however it has partnerships with two other Asian companies:
one in Cebu (Philippines), which opened in 2011 and the other in Dhaka (Bangladesh), which opened in 2014.
It mostly deals with Web design, System development and Web advertisement.
Our vision is to educate people who are willing to use and improve their IT skills and English language skills, therefore encouraging them to be mobile and to work in various countries.
We are always looking for peers who we can grow together with for the future of IT society!
Now I would like to inform you more about the Skopje branch in particular.
The following is the exact office location:
Macedonia, Skopje, Jordan Mijalkov no. 30/1-5, entrance 1, apartment 5
We usually hold little parties after work during which we drink beer, listen to music and have fun in general, our team is filled with enthusiasm!
Last year we celebrated our first Anniversary: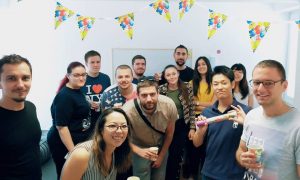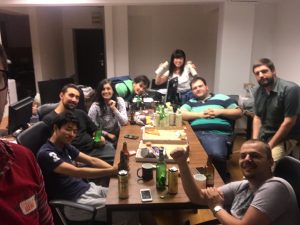 Thank you for reading.
In the following blogs, I will introduce our employees individually.